School bullying summit's big hope: an anti-bullying tipping point
The Department of Education convened its first summit on school bullying Wednesday. It comes as state lawmakers nationwide step up their efforts to pass anti-bullying laws.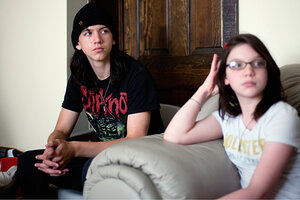 Andrew A. Nelles/AP/file
In the wake of several high-profile bullying incidents, the Department of Education is hosting the first federal school bullying summit Wednesday and Thursday.
Suicides linked to bullying – including the January suicide of Phoebe Prince, which has resulted in nine felony charges against her Massachusetts classmates – have drawn particular attention to the issue, and several states are considering or enacting anti-bullying laws.
"People are really feeling the heat now," says David Waren, education director for the Anti-Defamation League, who is attending the conference, noting that 43 states have now enacted some form of anti-bullying legislation.
"This is the first time this kind of initiative has taken place, bringing together so many disparate elements, and there really is a hope that it will create a critical mass or tipping point ... and out of that will create a more strategic and aligned and leveraged effort," he adds.
In his opening remarks, Education Secretary Arne Duncan made clear that he sees addressing bullying – and the broader issues around ensuring that students feel safe and have a school free of disruptions – as integral to education policy.
---