Why Americans are choosing to study abroad in record numbers
The number of American students who study abroad has been climbing steadily, more than tripling in the last two decades. The need to compete in a globalized world is one reason.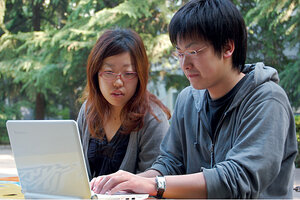 Peter Ford / The Christian Science Monitor
American students are studying abroad in record numbers.
According to a report Monday by the Institute of International Education (IIE), 270,604 American students studied abroad for academic credit in the 2009-2010 academic year, an increase of nearly 4 percent over the previous year.
This figure has more than tripled in the past two decades, with the number of students studying abroad increasing every year. The 2008-2009 academic year was a notable exception, which the IIE, a Washington-based nonprofit educational and cultural exchange organization, attributed to world economic conditions.
The IIE's findings were released in its annual Open Doors Report on International Educational Exchange. IIE and US officials indicate that the long term trend shows more importance being placed on students gaining international experience.
"For American students to be competitive in today's globalized world, international experience is critically important," Ann Stock, assistant secretary of State for educational and cultural affairs, said in a press release. "Young people who study abroad gain the global skills necessary to create solutions to 21st Century challenges."
Britain, Italy, Spain, France, and China remained the top host destinations, but more students are going to countries that aren't on the usual list. Fifteen of the top 25 destinations were outside of Western Europe and nineteen were countries where English is not a primary language.
More than 14,000 students studied in China this past year, contributing to the country's rising popularity as a destination for US students. There was also a 44-percent increase in students going to India. Israel, Brazil, Egypt, and New Zealand also showed large percentage gains.
So what explains this phenomenon? Peggy Blumenthal, senior counselor to the president of the IIE, says seeking experiences abroad is directly linked with expanding opportunities at home.
"As the fields diversify from which American students come, so will the diversity of destinations as well," says Ms. Blumenthal in a phone interview. "Thirty years ago, students would go abroad to study art in Italy or history in France, but now students want to study every field where the action is and do it on the ground; that means going to a whole new range of different countries."
---