No Child Left Behind loses bite as Obama issues waivers
Many educators applaud the waivers from some parts of No Child Left Behind, saying the education-reform law has a one-size-fits-all approach. Others worry that minorities could suffer.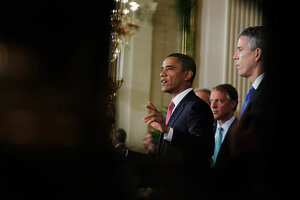 Jason Reed/Reuters/File
For 10 states, the chance to get No Child Left Behind off their backs has finally arrived, with President Obama announcing long-awaited waivers from some aspects of the federal education law Thursday.
The George W. Bush-era bipartisan law has widely been credited with bringing to light achievement gaps in which racial minority, low-income, disabled, and non-native English speaking students have been the most left behind. But it's also been widely criticized for a one-size-fits all approach to accountability, with many states saying it's an albatross.
"With the waivers, Obama has changed the landscape of accountability under No Child Left behind," says Diane Stark Rentner, interim director of the Center on Education Policy in Washington.
The states that have so far received waivers through the US Department of Education are Colorado, Florida, Georgia, Indiana, Kentucky, Massachusetts, Minnesota, New Jersey, Oklahoma, and Tennessee.
---