Who is to blame for LA school sex abuse? Push for answers poised to escalate. (+video)
Three suits involving 23 students have been filed in an L.A. court in the wake of the Miramonte school sex abuse scandal, but the those numbers are expected to rise dramatically in a push for accountability.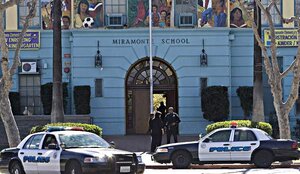 Jonathan Alcorn/Reuters
As the child sex abuse scandal that has rocked the Miramonte Elementary School and the Los Angeles Unified School District expands, a dramatic push for accountability is just beginning to take off.
Three suits involving 23 Miramonte students have been filed in Los Angeles Superior Court so far, and according to a spokesman for the law firm handling them, "that number will go up to eight or nine by the end of next week."
While only two men have been arrested and charged so far in the Miramonte scandal, experts say statistics collected from previous pedophile cases suggest the number of alleged instances of abuse, and lawsuits, could rise far further.
But as the estimated cost to the school district of handling the fallout from the abuse allegations escalates the question arises, who can and should be held liable when a teacher breaches the public trust?
The cases that have been filed so far target both the individual teachers as well as the school district, which, according to a spokesman, has no comment.
"We believe it is very dangerous to place blame for child sexual abuse on anyone or any group other than the perpetrator of the crime," says Jolie Logan, CEO of Darkness to Light, a national nonprofit dedicated to the prevention of child sexual abuse.
Still, she notes, cases such as this one "provide an opportunity for all of us to consider our roles. It is time to closely examine what could have been done differently, what warning signs may have been missed and what policies should now be adopted and enforced to keep kids safe."
---