Obama turns to 'master teachers' to improve US math scores
Two-thirds of US 8th-graders are below proficiency in math and science. President Obama's new attempt to reverse the trend involves cultivating master teachers to train other teachers.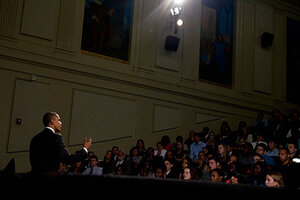 Carolyn Kaster/AP/File
To ratchet up math and science achievement in American schools, President Obama announced Wednesday a plan to create a Science, Technology, Engineering, and Math (STEM) Master Teacher Corps.
The $1 billion plan is dependent on Congress approving the president's budget plan. While the investment would be significant, improving science and math teaching has been a longstanding challenge, and the plan is not a silver bullet, education experts say.
Initially, 50 master teachers would mentor fellow teachers in 50 sites around the country. Over four years, the corps would expand to 10,000 teachers who earn up to $20,000 on top of their base annual salary in exchange for their expertise and leadership.
"Symbolically it's very meaningful," says Elena Silva, a senior associate in the Washington office of the Carnegie Foundation for the Advancement of Teaching. "Whether we look back 10 years from now and say this really made the difference, our kids are performing better, it's difficult to say."
That's partly because research into what kinds of supports most improve teaching is still under way.
With about two-thirds of 8th graders below proficiency in math and science on the National Assessment of Educational Progress, and many students dropping out of community colleges because they can't get past remedial math courses, there's no lack of consensus about the need to boost such skills.
The President's Council of Advisors on Science and Technology proposed a STEM master teacher corps in a 2010 report. It noted that out of about 477,000 math and science teachers in K-12 schools, roughly 25,000 leave the profession each year.
There are some promising examples of increasing salaries in hard-to-staff subjects and offering new teachers intensive mentoring from experienced teachers.
Math for America, for instance, provides salary supplements to top math teachers in New York Public Schools and has them serve as leaders and mentors. The money isn't the only motivator, the PCAST report notes. Their commitment to the job increases because of the professional satisfaction and recognition that comes from their role as master teachers.
---