How tougher classes in high school can help kids make it through college
Some 40 percent of students are failing to graduate from college in six years. A study calls for higher-quality college prep, with more advanced math, advanced placement classes, and better advising.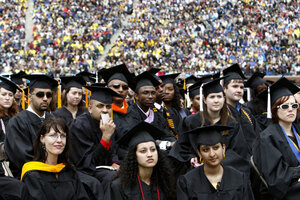 Kevin Lamarque/Reuters/File
About 4 out of 10 students at four-year colleges fail to earn a degree within six years – and timely completion rates at two-year schools are even lower.
But what if high schools had a better recipe for preparing their students to stay in college? The National School Boards Association released a study Thursday afternoon highlighting some key ingredients: more advanced math courses, challenging courses such as Advanced Placement (AP) and International Baccalaureate (IB), and better academic advising.
If students are exposed to those factors – even if they don't earn high scores on the course exams – they are more likely to continue college after their first year, a point at which many drop out, the study notes.
"This provides a rare glimpse into what high schools can do to really improve college success," said Jim Hull, senior policy analyst at NSBA's Center for Public Education, in a teleconference with reporters Thursday.
The findings don't provide a silver bullet for school districts – many of which are still debating whether to make higher math mandatory or to open up college-level AP courses to all students who are interested.
"There's certainly a big correlation between students in high school who take advanced math and [those who] do well in college, but correlation is not cause and effect; it could very well be that the people whose future destiny is to do well in college also are good at doing math," says David Klein, a math professor at California State University at Northridge who has studied AP math courses and found many of them to lack quality when compared with college courses.
---