How does US compare in math, science, reading? Younger students do better.
Two international studies show fourth- and eighth-grade scores in math, science, and reading in 2011. In the US, there's no cause for alarm, or celebration.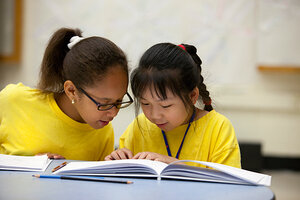 Melanie Stetson Freeman/The Christian Science Monitor
The US may not lead the world in math, science, or fourth-grade reading, but it's not doing that badly, either.
That, at least, is one takeaway from the latest data from two big international studies released Tuesday.
Here's another: Finland isn't quite as perfect, at least according to these tests, as some education policy folks might have us believe.
"When you look at the US scores, those scores are solid," says Tom Loveless, a senior fellow at the Brookings Institution, who also notes that there is still a lot of room for improvement, particularly on math and science. "There shouldn't be complacency, but there also shouldn't be alarmist rhetoric."
The two tests released Tuesday, both with 2011 data, were the Trends in International Mathematics and Science Study (TIMSS), which measures math and science achievement for fourth- and eighth-graders around the world, and the Progress in International Reading Literacy Study (PIRLS), which measures fourth-grade reading.
Quickly distilling the results to a simple ranking – or looking at how the US moved in the rankings from the last TIMSS test, given in 2007 – is complicated. Not only are there varying grade and subject levels, but a number of educational "systems" participate in the test, including several US states and places like Hong Kong that don't quite achieve "nation" status – and the list of participating countries is a little different each time.
That said, in some cases, the US stacked up fairly well against other countries and educational systems, particularly on PIRLS, where the US average score of 556 was significantly higher than the international average, set at 500.
---