New UC logo: Marketing blunder? Or is storm of criticism overblown?
The venerable University of California traded in its traditional logo for something modern, eliciting a New Media blast of derision. Some experts say the storm over the new UC logo will pass.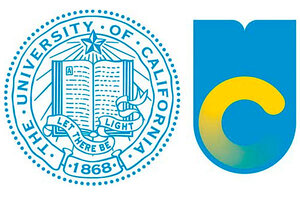 Oakland Tribune/AP
The University of California – one of the most prestigious public universities in the world – redesigned its logo to stay abreast of the times and attract new students.
But the move last week appears to have accomplished just the opposite, and university officials are trying to figure out what to do next.
The venerable university system has been hit with a New Media revolt that includes insults on Twitter, e-mail memes that mock the new look, Facebook spoofs, and calls for the new representation to be tattooed on its creator's foreheads.
Experts say the episode is a cautionary tale on the dangers of image and marketing changes.
Here's the background: for 144 years, the 10 campuses have been collectively represented by a traditional-looking, round logo with a "Let There Be Light" motto, a drawing of an open book and a radiating star.
The new logo is essentially rectangular, with a form that approximates the old seal's open book but which also could pass for a stylized "U." On top of that is the top half of the letter "C" which could be, depending on whom you ask, a napkin doodle, a bidet, or a banana label.
"This is an attempt to be revolutionary, but it comes off as insensitive," Reaz Rahman, a UC Irvine senior who started an online petition to get the university to reconsider, told the Los Angeles Times. "To me, it didn't symbolize an institution of higher learning. It seemed like a marketing scheme to pull in money rather than represent the university.
---