Californians debate debates: Who gets to participate?
First it was hunger striking candidates. Now a Libertarian running for secretary of state in California launches a petition to open debates to all who are qualified.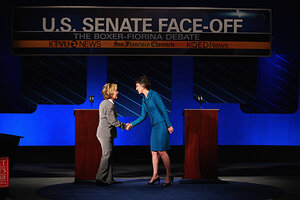 Justin Sullivan/AP/Pool
Is democracy best served by political debates in which all official candidates participate? Or is it more helpful for fewer candidates to have more time to detail their differences?
In California, the third candidate in a month is seeking to heap that long-contested issue onto voters' political plate.
First, Democrat Richard Lutz and Libertarian Michael Benoit took the unusual step of staging a hunger strike for nearly two weeks in August in an attempt to force a debate with Rep. Duncan D. Hunter, the Republican incumbent in the 52d congressional district, in time to influence absentee voters.
Now, Christina Tobin, founder and chairman of The Free and Equal Elections Foundation and the Libertarian party candidate for secretary of state, has launched a petition to open all debates to include all qualified candidates.
"Non-inclusive debates are not a new phenomenon," Tobin, who is also a board member for Californians for Electoral Reform (CfER), said in a statement. "However, the true purpose of candidate debates should be to provide a forum for all qualified candidates to discuss the issues and provide voters with the knowledge they need to make informed decisions at the polls."
Tobin's petition, which is not legally binding, has little chance of changing California practices. But it raises the age-old political issue of who should be able to participate in political debates.
---