Ballot measures 101: Will they boost voter turnout in Election 2010?
So far in Election 2010, voters in 35 states will confront 149 citizen-backed initiatives and referendums. Evidence is mixed on how ballot measures affect voter turnout.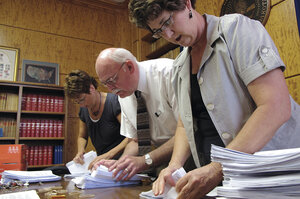 Dale Wetzel/AP
Amid all the horse races, attack ads, and political gimmicks of the 2010 midterm elections, some states will actually get some policy done on Nov. 2. Those states have ballot measures up for a vote. These initiatives and referendums range from votes to confirm laws the state legislature has already passed to state constitutional amendments, and they cover an eclectic range of topics from marijuana legalization to abortion.
In a year marked by voters' dissatisfaction with politicians, ballot measures could be a gauge of which issues citizens are most eager to take into their own hands.
How many ballot measures will there be in November?
Citizens in 35 states will vote on at least 149 ballot questions in the November general election. It's too early to say the exact total of ballot measures, because state legislatures could still trigger additional referendums before they recess for good ahead of the election.
The deadline for citizen-initiated ballot measures, however, has already passed in all 26 states that have that process. Forty-two such measures have qualified for voter consideration.
In general, about 200 total ballot measures face voters in national election years, according to the National Conference of State Legislatures.
What are the different types of ballot questions?
There are two basic kinds of state ballot questions: referendums and initiatives. Referendums are votes of confidence in laws that have already been passed by a state legislature and signed by the governor. Certain actions, such as passing state constitutional amendments or bond measures, often trigger voter referendums automatically. All 50 states call for automatic referendums in some cases. However, citizens of 23 states can also petition for a referendum to overturn any law, provided they do so within a certain time frame after the law's passage. South Dakota has the only "popular referendum" of 2010: an effort to overturn the state's ban on smoking in casinos.
---