Obama touts new patient protections in health-care reform
Several patients' rights provisions of the new health-care reform law go into effect Thursday. President Obama is still working to sell the American public on the merits of the reforms.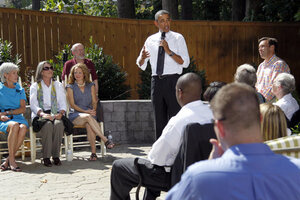 Pablo Martinez Monsivais/AP
Six months ago Thursday, President Obama signed landmark health-care reform – and he's still trying to sell it.
Much of the public was skeptical of the reform in March, and remains so now. Many Republicans are campaigning on a pledge to repeal it. The more immediate threat, while Mr. Obama and his veto pen are still in the Oval Office, is to defund implementation. Twenty states are suing in federal court to have the reform declared unconstitutional.
To counter all the negative publicity, and try to win converts to the reform, Obama and other top administration officials spent Wednesday touting the patients' rights features going into effect Thursday.
They are "the most important patients' bill of rights that we've ever seen in our history," Obama said Wednesday at a "backyard discussion" in Falls Church, Va., which included average people who will benefit from the reforms.
The new provisions apply to plan years that begin on or after Sept. 23:
Insurance companies are barred from dropping clients who become ill.
Family plans may cover adult children up to age 26.
Insurers are barred from denying coverage to children up to age 19 because of preexisting conditions.
New plans are required to cover preventive care, such as mammograms and colonoscopies, with any copays or deductibles.
Lifetime caps on coverage are eliminated, and annual caps begin to phase out.
---