Why climate change isn't much of a campaign issue
When an economy is in the tank, it's a lot tougher to sell what may be expensive environmental solutions whose benefits aren't seen for decades to people worried about their job today.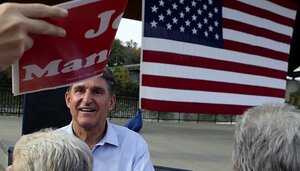 David Smith/AP
Coming into this year, conventional wisdom had it that if Democrats failed to get an energy and climate bill passed by this summer, a new attempt would have to wait until at least 2011.
Think longer-term than that. Maybe a lot longer.

In his most recent reading of the political tea leaves, published Oct. 8, noted analyst Charles Cook of the Cook Political Report sees Republicans in the House picking up at least 40 seats – with 39 needed to take the majority.
A headline on the Associated Press's latest analysis? "As Democrats' message lags, GOP awaits huge wins."
And not just at the national level. In a hard Senate fight in West Virginia, Democratic Governor Joe Manchin is running as fast as possible from any association with the concept of a cap-and-trade bill to reduce greenhouse-gas emissions. In a campaign ad, Manchin literally fires a shot at the bill. Other Democrats are downplaying (or remaining silent on) climate change as a campaign issue.
Meanwhile, GOP candidates – incumbents and challengers – are lauding the benefits of carbon dioxide for creatures great and small, attributing global warming to sunspots (long discredited), and in general touting the notion of human-triggered global warming as a hoax.
Ironically, they seem to be out of step with much of the American public. In a new survey released by the Yale Project on Climate Change Communication, 63 percent of Americans agree that global warming is happening. A plurality (50 percent) agree that it's triggered by human activity, compared with 35 percent who say it's natural, and 7 percent who say it isn't happening at all.
---