Republicans' post-Election 2010 challenge: managing expectations
Republican strategists urge party supporters to show 'maturity, sobriety, and patience,' and not to push for too much, too fast from an anticipated GOP majority in the House.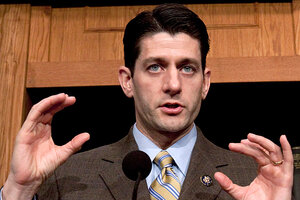 Harry Hamburg/AP/file
On the eve of a potential midterm election landslide, the Republicans are working hard to manage expectations – not just over how many congressional seats they will win on Nov. 2, but over what they can accomplish once their expanded ranks take office in January.
On point No. 1, the train has left the station: The Republicans have to win a majority of House races next Tuesday, or they will be seen to have failed.
But point No. 2, expectations once in office, is trickier. President Obama won election two years ago on a wave of sky-high expectations for progressive transformation, and many of his supporters feel let down.
Now that the Republicans look set to regain a modicum of power, it's their supporters' turn to demonstrate prudence, warns Peter Wehner, a political strategist in the second Bush White House.
"In the aftermath of the midterm elections, the conservative movement should keep pressure on members of Congress to propose a governing blueprint that is equal to this moment – one that limits government and champions a growth agenda," Mr. Wehner writes on his Commentary magazine blog. "At the same time, conservatives need to show some measure of maturity, sobriety, and patience. They cannot demand that everything be done all at once."
Obama still president
Mr. Obama will still be president for the next two years. That alone will put the brakes on anything as dramatic as repealing health-care reform, which he would veto. (And a veto override, which requires a two-thirds majority of both houses, is beyond thinkable.)
---
Follow Stories Like This
Get the Monitor stories you care about delivered to your inbox.