Republican women gain in Congress, but women overall may lose ground
At least eight Republican women are newly elected to the House, and one to the Senate. Four GOP women won their governor's races. But the overall picture for women in Congress is less rosy.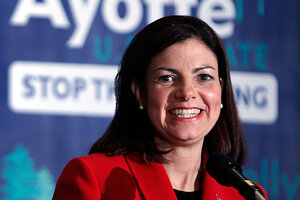 Cheryl Senter/AP
For Republican women, 2010 was a great election cycle.
Yes, several high-profile women lost their races: Meg Whitman and Carly Fiorina in California, Sharron Angle in Nevada, and Christine O'Donnell in Delaware. But four Republican women won their governor's races: Susana Martinez of New Mexico, Nikki Haley of South Carolina, Mary Fallin of Oklahoma, and incumbent Gov. Jan Brewer of Arizona. In the Senate, at least one GOP woman won, Kelly Ayotte of New Hampshire. Another Republican woman, Sen. Lisa Murkowski of Alaska, will make history as a victorious write-in candidate if the numbers hold.
---