Rahm Emanuel clears one hurdle in Chicago mayor's race; more ahead
A hearing officer with the Chicago election board recommends that Rahm Emanuel be permitted to run for mayor of Chicago. The full board is set to vote on his eligibility Thursday.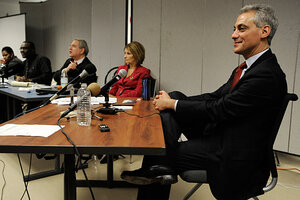 Paul Beaty/AP
Rahm Emanuel's status as a legal resident of Chicago is sound and he is eligible to run for mayor of Chicago.
That is the recommendation of Joseph Morris, a hearing officer with the Chicago Board of Election Commissioners, who issued a 69-page report early Thursday morning stating that "the preponderance" of evidence "establishes that [Mr. Emanuel] never formed an intention to terminate his residence in Chicago" while serving as White House chief of staff. Emanuel returned from Washington, D.D., in October to run for the mayoral seat soon to be vacated by Richard M. Daley.
The recommendation now goes before a three-member board Thursday, which is expected to vote on the matter. Whatever the board's decision, the losing side is certain to appeal, sending the case to the Illinois state court system and, perhaps, ultimately to the state Supreme Court.
In a statement, Emanuel said he is "encouraged" by the recommendation and that "it affirms" his position. "Chicago voters should ultimately have the right to decide the election – and to vote for me, or against me," he said.
---