Is Rahm Emanuel really a Chicagoan? His mayoral race is challenged.
An election lawyer says Rahm Emanuel does not meet the residency rules requiring candidates to live in the municipality in which they seek office for at least a year before taking office.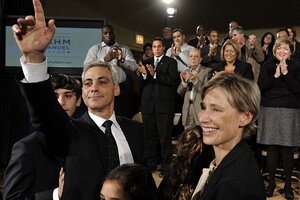 Paul Beaty/AP
Rahm Emanuel's bid to be Chicago's next mayor is being challenged on the grounds that he was twice listed as inactive on voter rolls during his time in Washington, making him illegible to run.
Burt Odelson, an Evergreen Park election lawyer, plans to file a challenge to the Chicago Election Board of Commissioners this coming week, saying Emanuel does not meet the state residency rules requiring all candidates to reside in the municipality in which they seek office for at least one year before taking office.
Mr. Odelson says Emanuel fails the residency test because he rented his home during his tenure in Washington as White House Chief of Staff, a position he resigned from in late September to run for mayor.
Odelson says election documents show Emanuel was first removed from the voter rolls twice in October 2009 because canvassing notices sent to Emanuel's home were returned to the election board.
Odelson told the Chicago Tribune this week that Emanuel's voter status was made active before the Feb. 2 election, allowing him to vote absentee using his Chicago address. He was then removed a second time from the voter rolls, a status that held until October when he registered using the address of a condo he is now renting.
The fact that Emanuel's voting status was reinstated before the election without having to go through the process of showing the necessary documentation suggests he was made active illegally, Odelson said.
"By some magical means, which I think will come out after objections are filed, Emanuel was reinstated," Odelson told the Tribune.
---
Follow Stories Like This
Get the Monitor stories you care about delivered to your inbox.