Mitt Romney tops New Hampshire GOP straw poll. Does it mean anything?
Former Massachusetts Gov. Mitt Romney won a GOP straw poll of state committee members on Saturday. But it's a year before the first-in-the-nation primary, and the presidential field is unsettled.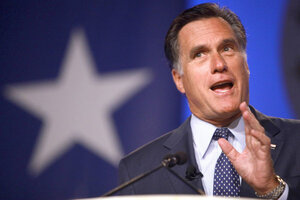 Jacquelyn Martin/AP
Is Mitt Romney the man to beat in New Hampshire's first-in-the-nation GOP presidential primary next year?
Signs are pointing that way. Mr. Romney handily won a straw poll of New Hampshire Republican State Committee members on Saturday – a temperature-taking that comes a full year before voters actually go to the polls. He also led, by a sizable margin, in a statewide poll of GOP voters and GOP-leaning independents, released Jan. 6 by the online news outlet NH Journal.
It's early yet in the 2012 presidential race – so early that no GOP presidential aspirant has even officially thrown a hat in the ring. Though winning the New Hampshire primary is often a huge springboard into the rest of the nomination season, being tagged the front-runner this early in the game is a precarious position.
RELATED: How well do you know Sarah Palin? A quiz
For one, everyone else will be trying to knock Mr. No. 1 down a peg. And while front-runner status may attract donors and talented campaign staff, it also raises expectations for a positive outcome – and anything less than a definitive win will be counted as a crushing setback.
---