Tax cut deal: What do GOP's 2012 presidential contenders think?
(Read article summary)
Presumptive GOP presidential contenders Mitt Romney, Sarah Palin, and Mike Huckabee diverge on whether the tax cut deal Republicans struck with President Obama is a good thing.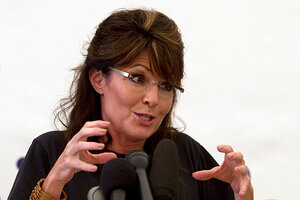 Guillermo Arias/AP
What do the GOP's potential 2012 presidential candidates think about their party striking a tax cut compromise with President Obama?
We're talking about people who (probably) want Obama's job, after all – even if they have yet to officially announce that they will soon have an official announcement about whether they will set up a PAC to fund further consideration of their potential White House aspirations.
Plus, the way the compromise tax bill is set up, the extension of Bush-era tax cuts for everybody would expire in two years. That means that tax cuts – for the wealthy and otherwise – will likely be a hot issue in the 2012 campaign.
Former Massachusetts Gov. Mitt Romney appears to have noticed this. He's bolted out of the starting gate and veered off to flank other GOP contenders on the right, to mix a few metaphors. He opposes the tax cut compromise because it does not go far enough.
Mr. Romney wrote in a USA Today opinion piece on Tuesday that the compromise is "a disappointing agreement," largely because it does not make permanent the Bush tax cut extension.
Uncertainty about what will happen to tax rates in two years will cause entrepreneurs to refrain from starting ventures that the reductions otherwise might have spurred, according to Romney. Current employers might not expand for the same reason.
"So while the tax deal will succeed in temporarily putting more money in the hands of consumers, it will fail to deliver its full potential for creating lasting growth," writes Romney.
---