State ID laws: 10 million Hispanic voters could be affected, study says
Some 23 states have or are considering laws to mandate voter IDs, toughen voting restrictions, or cull noncitizens from voter rolls. According to a new study, the laws could deter many eligible Hispanic voters.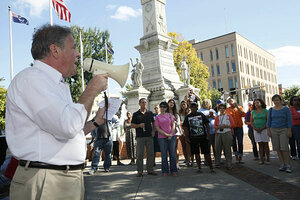 Stephen Flood/The Express-Times/AP
New restrictive voting laws in 23 states could make it more difficult for a significant number of Latino voters to cast ballots in the November presidential election, according to a new study released on Monday.
Voter ID laws, tougher voter registration requirements, and efforts by state officials to remove noncitizens from their voter rolls could intimidate or deter many Latinos from exercising their right to vote, the report says.
The study, produced by the civil rights group Advancement Project, says there are more than 10 million eligible Latino voters "who could be deterred or prevented from voting in the 2012 elections" because of new voting laws enacted or proposed in 23 states.
The new measures include a photo ID law currently under court review in Pennsylvania. Florida and Colorado are cited for attempting to remove noncitizens from their voter rolls by comparing information from the state's driver's license database with information in a federal immigration database.
Political analysts believe Latino voters could prove decisive in the coming presidential election depending on turnout. Polls show President Obama enjoys a significant advantage among Hispanic voters over Republican rival Mitt Romney.
The president has pursued issues favored by Latinos, including launching a legal challenge to Arizona's controversial immigration law, Senate Bill 1070. The Obama administration also authorized an executive branch version of the DREAM Act, which has stalled in the Senate. It allows 1.7 million children of illegal immigrants to avoid the threat of deportation.
---