What 'rogues and vagabonds' have to do with Pennsylvania voter ID law
An 1869 ruling, part of which was cited by a Pennsylvania state judge to uphold a voter ID law, has hit a nerve among critics for language that recalls 'outright prejudice.' The case is before the state's high court.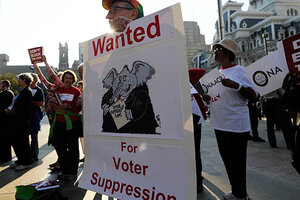 Michael Perez/AP
An 1869 ruling used by a Pennsylvania state judge in August to uphold a tough new voter ID law is providing some new and startling historical context to deliberations by the Pennsylvania Supreme Court, as it mulls whether to block the controversial law before the Nov. 6 presidential election.
Looking specifically at the tumult and vagrancy of 19th century city life in Philadelphia, the so-called 1869 Patterson v. Barlow decision, which in part allowed election officials to consider a voter's "virtue" before being allowed to cast a ballot, formed the backbone of Judge Robert Simpson's decision last month that the new law was constitutional and could go into effect immediately. The original Patterson ruling was written by state Supreme Court justices, whose legal descendants are now weighing the voter ID law.
The ruling was more of a legal side note in the actual hearing Thursday. But citation of the ruling, which used what today would be considered by many to be bigoted language to justify early curbs on the franchise, has hit a nerve among critics who say Judge Simpson's reliance on the ruling ties modern day critiques of voter ID laws directly, and shockingly, to a historical narrative of "anachronism and … outright prejudice," according to one legal brief filed in the case.
The Patterson decision "shows that a majority of the Pennsylvania Supreme Court was once led to rationalize burdensome election procedures based on generalized and biased fears about fraudulent voting. That historic mistake should make the court hesitate to uphold another election law ostensibly aimed at preventing fraud when the state has offered no evidence that any such fraud has actually occurred," writes Jessie Allen, a law professor at the University of Pittsburgh, in the Pittsburgh Post-Gazette.
---