On ballots: Has pro-marijuana camp found way to win over middle America?
Ballot initiatives in Colorado, Oregon, and Washington would make recreational use of marijuana legal. At least one is likely to succeed. Pro-legalization groups have been honing their message.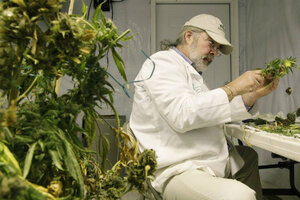 Ted S. Warren/AP
The failure of Prop. 19 – a California legalization measure – two years ago was widely seen as a stunning defeat for high-flying pro-marijuana forces.
Yet judging by three new pot legalization proposals now on ballots in Washington, Oregon, and Colorado, the lessons of Prop. 19 were hardly lost.
Instead, pro-legalization groups including the ACLU studied exit polling, conducted their own focus group research, found moderate spokesmen, and tweaked proposals to try to build "trust" with a middle America that has grown steadily more accepting of pot use, yet, as Prop. 19 showed, remains wary of the impact of making the drug legal.
Three weeks ahead of Election Day, it now appears that at least one of those initiatives – Initiative 105 in Washington State – is heading toward passage, with some 57 percent of likely voters now backing the measure, according to a Survey USA poll taken in September. If that happens, it would be the first time a government has lifted pot prohibition, setting up a potential Constitutional showdown with a federal government that still prohibits growing, selling, and using marijuana.
---