Connecticut Senate race: Blumenthal, McMahon spar over TV ads
In Monday's debate, the two leading candidates in the Connecticut Senate race – Democrat Richard Blumenthal and Republican Linda McMahon – accused each other of lying to voters in their TV ads.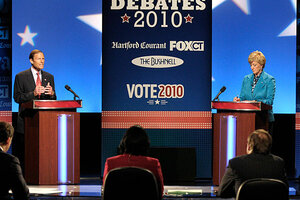 Rich Messina/AP
The two major-party candidates for Connecticut's open U.S. Senate seat took aim at each other's recent TV ads in their first face-to-face debate on Monday, with Republican Linda McMahon saying her position on the minimum wage has been misconstrued and Democrat Richard Blumenthal saying the latest criticisms about his military record are nothing new.
The matchup, broadcast on live television, was feisty at times, with McMahon, a former wrestling company executive, accusing the longtime Democratic attorney general of being on the government payroll for all his adult life, not understanding what it takes to create jobs and misrepresenting her stance on minimum wage rate levels.
McMahon said Blumenthal's latest ad makes it sound as though she supports cutting the current rate level – a question she was asked about by reporters last week but didn't directly answer.
]"That's a lie. You know that's a lie. I never said it," McMahon said, calling on Blumenthal to pull the ad.
Following the debate, Blumenthal accused McMahon of playing "somewhat fast and lose with the facts," reiterating how McMahon did not voice support for the current minimum wage rate during her exchange with reporters.
"She said she would have to look at it," Blumenthal said. "I would never say such a thing. My answer would have been, 'No. Absolutely not. We will not cut the minimum wage. People are struggling.'"
---