Polls tighten as elections approach. Good news for Democrats? Maybe.
(Read article summary)
There's some good news for Democrats in polls asking which party should control Congress. But certain portions of the electorate – and of the party's base – are big unknowns for Democrats.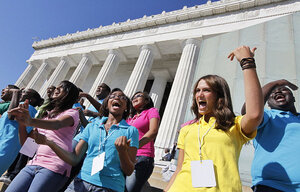 J. Scott Applewhite/AP
It's just four weeks (and two days) until the midterm elections. But that's a lifetime (or two) in politics, and it's way too early for Speaker Nancy Pelosi or Minority Leader John Boehner to be staking claim to the fanciest digs in the US House of Representatives.
According to a race-by-race analysis by The New York Times, "Enough contests remain in flux that both parties head into the final four weeks of the campaign with the ability to change the dynamic before Election Day."
"We have a lot of work to do," Boehner told the newspaper.
Fund raising and targeted advertising – both for your guy and against the other guy – are important. Maybe more so – for Democrats especially – is rousing the party faithful from the typical midterm lethargy, then getting them to the polls on Election Day Nov. 2. That was the main point of the "One Nation Working Together" rally at the Lincoln Memorial Saturday organized by liberal groups.
---