Marijuana legalization: Prop 19 in California starved for cash
Proposition 19, the California ballot measure to legalize marijuana possession and cultivation for adults has raised $2.1 million. Most of the money is from one donor: Richard Lee, a medical marijuana entrepreneur.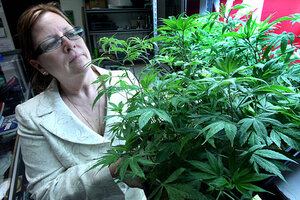 Rich Pedroncelli/AP/ File
In a state where contentious ballot measures can spawn multi-million-dollar throwdowns, no one for or against California's high-profile marijuana legalization initiative has raised much cash.
Most notably absent are big donations from the thriving medical marijuana industry, a seemingly natural base of support for a measure being sold as a way to raise tax revenue for the cash-strapped state.
At the same time, the Yes on 19 campaign has still outraised the No campaign by about 10 to 1.
Supporters of the measure to legalize possession and cultivation of limited amounts of pot for adults had raised $2.1 million as of Tuesday, the latest deadline for campaigns to report their contributions. Nearly three-quarters of the money has come from the businesses of the measure's main backer, Richard Lee, a one-time rock concert lighting technician turned medical marijuana entrepreneur.
ONE-MINUTE DEBATE: Should California legalize pot?
About $1.3 million of the Yes campaign's money went toward the signature drive to qualify the measure for the ballot.
Opponents had raised just more than $210,000, much of it from law enforcement sources.
Both sides had about the same amount of cash on hand as of Tuesday: about $54,000 for the No campaign and $67,000 for the Yes campaign.
Ballot measure watchers said initiatives that deal with social issues typically attract less funding than measures that involve major industries such as oil, energy and insurance. The California measure is one of 149 citizen initiatives nationwide in the 2010 elections.
---