Herman Cain says allegations of sexual harassment are 'baseless'
Herman Cain says he was falsely accused of sexual harassment, reports Fox News. Is Herman Cain's presidential bid in trouble?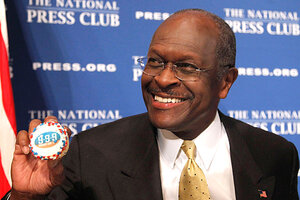 (AP Photo/Pablo Martinez Monsivais)
Herman Cain is getting grilled today about new revelations that two former employees at the National Restaurant Association accepted cash settlements in return for signing non-disclosure agreements after leveling sexual harassment charges (claiming inappropriate physical gestures as well as verbal exchanges) at Mr. Cain.
How Cain addresses all this today will be critical.
He told Fox News this morning:
"I have never sexually harassed anyone. Secondly, and yes, I was falsely accused while I was at the National Restaurant Association. I say falsely because after this investigation, it turned out to be baseless."
Asked if he had ever had to pay someone as a result of a sexual harassment claim, Cain said:
"Outside of the Restaurant Association, absolutely not. If the Restaurant Association did a settlement, I wasn't even aware of it and I hope it wasn't for much because nothing happened. If it was handled, it would have been handled by some of the other offices that worked for me."
Finally, Cain was asked if there will be more allegations of this kind.
"Absolutely not. If more allegations come, other people will simply make them up."
At the National Press Club, moments ago, Cain said:
He doesn't "think this sexual harassment thing is going to have legs," reports USA TODAY. "First, it's not true and second we're not going to chase two anonymous sources," Cain said before addressing the National Press Club.
---