Herman Cain faces sexual harassment claims. How much trouble is he in?
(Read article summary)
Allegations that Herman Cain acted inappropriately toward two female employees in the 1990s are just emerging, and the details could be key. But the allegations will test the Cain campaign.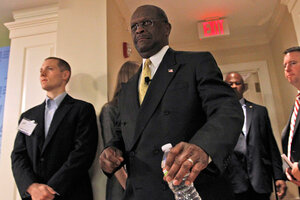 Pablo Martinez Monsivais/AP
Herman Cain has risen from the lower tier of Republican presidential candidates to front-runner in a heartbeat of political time. The growth and intensity of his support has been a true American phenomenon. But now his position is at risk, as his campaign faces a crisis: a Politico report that Cain was accused of sexually suggestive behavior toward at least two female employees when he was head of the National Restaurant Association in the 1990s.
The two women complained that Mr. Cain had subjected them to language and behavior they found uncomfortable, according to Politico. They received financial settlements in the range of five figures each and left the restaurant trade group, the article adds.
"Politico has confirmed the identities of the two female restaurant association employees who complained about Cain but, for privacy concerns, is not publishing their names," said the story, which was written by multiple political reporters.
How much trouble is Cain in? Quite a bit, at the moment – though that could change, depending on where this story goes in the days to come.
First off, the Cain campaign's handling of the story has not been adroit. Spokesman J.D. Gordon has blasted it, without denying its facts.
"Fearing the message of Herman Cain, who is shaking up the political landscape in Washington, inside-the-Beltway media have begun to launch unsubstantiated personal attacks on Cain," said Mr. Gordon.
---