Herman Cain: Woman's statement about sexual harassment may be released today
A new poll shows Herman Cain with continuing strong support among Republicans. But a woman who claims she was sexually harassed is trying to release a written statement about Herman Cain's alleged actions.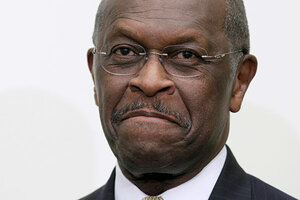 AP Photo/Carolyn Kaster
A woman who accused Republican presidential candidate Herman Cain of sexual harassment Thursday offered a statement telling her side of the story, in a move that could undermine Cain's 2012 campaign. But a new ABC News/Washington Post poll shows that Herman Cain's support among Republicans is still strong.
Cain has been accused by at least three women of sexual harassment when he was head of the National Restaurant Association in the mid-1990s. The issue is dominating the race to decide a Republican challenger to face Democratic President Barack Obama in the November 2012 election.
"This is absolutely fabrication, man," Cain told conservative talk radio host Sean Hannity, adding later: "We're not going to get distracted. As of today we're back on message and we're going to stay on message."
RECOMMENDED: 10 facts you should know about Herman Cain
The Washington Post/ABC News poll shows support for Cain held steady – basically tied with Mitt Romney – over the four days since the harassment story broke. Seven in 10 Republicans said the allegations did not matter when choosing a candidate, although support was weakening among GOP women,.
One of the women who allegedly accepted a settlement over sexual harassment charges said earlier this week that she wanted to talk publicly about accusations that Cain had sexually harassed her, but she has since changed her mind and wanted to make a written statement through her lawyer.
The woman's lawyer, Joel Bennett, gave the statement to the restaurant group, said Sue Hensley, a spokeswoman for the restaurant association.
---