Newt Gingrich stomps Mitt Romney in Florida poll
Newt Gingrich is ahead of Mitt Romney by a wide margin in Florida, a key GOP primary state. Will the surge last?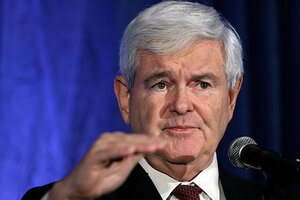 (AP Photo/Charlie Neibergall)
Newt Gingrich is blowing up in the polls – everywhere. But his lead is huge in Florida, a key early primary state. He's benefiting from Herman Cain's collapse in the wake of allegations of sexual harassment and the claim of a 13-year affair with single-mother Ginger White.
Consider Conservaposts's take by Daniel Bruski on the latest numbers, which shows the former Speaker with a 24-point lead over Mitt Rommey.
Here's the shattering results from the Florida Times-Union poll:
NEWT GINGRICH - 41%
MITT ROMNEY - 17%
HERMAN CAIN - 13%
RICK PERRY - 7%
RON PAUL - 4%
MICHELE BACHMANN - 3%
RICK SANTORUM - 1%
---