Rick Santorum donor makes weird contraception comment
Foster Friess, a major donor to the Rick Santorum super PAC, suggested that women use aspirin as a contraceptive. Rick Santorum was not amused.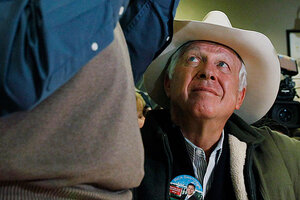 (AP Photo/Eric Gay)
Foster Friess, the billionaire pumping plenty of cash into Rick Santorum's super PAC, went on Andrea Mitchell's MSNBC show Thursday afternoon and had the following exchange:
"I get such a chuckle when these things come out. Here we have millions of our fellow Americans unemployed, we have jihadist camps being set up in Latin America, which Rick has been warning about, and people seem to be so preoccupied with sex. I think that says something about our culture. We maybe need a massive therapy session so we can concentrate on what the real issues are. And this contraceptive thing, my gosh, it's such inexpensive. Back in my days, they used Bayer Aspirin for contraceptives. The gals put it between their knees and it wasn't that costly."
Followed by two beats of silence, Mitchell's response says it all: "Um, Mr. Friess, I'm trying to catch my breath from that, frankly. Let's change the subject."
Rick Santorum, a Catholic, also seemed eager to change the subject when asked about Friess' remarks. Santorum opposes contraception but called Friess' comment "a stupid joke" and "in bad taste." But he also told Fox News that Friess was "a good man" and "a great philanthropist."
UPDATE:
---