How Bill Clinton factors in California governor race
Former President Bill Clinton found himself tossed between Jerry Brown and Meg Whitman this week. Clinton endorsed Brown, but how the candidates respond could have more of an impact.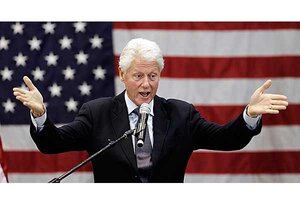 Tony Dejak/AP
Former President Bill Clinton endorsed California Democratic gubernatorial candidate Jerry Brown on Tuesday.
Because of the tangled permutations of a ubiquitous Meg Whitman (R) TV ad, Brown's response to it, and the checkered relationship of Brown and Clinton, the high-profile endorsement will have a convoluted effect on the race, analysts say. Polls find Whitman and Brown in a dead heat with weeks to go before the election.
Clinton found himself interjected into the California governor's race three weeks ago when Whitman began airing an ad with footage of him in a 1992 Presidential debate attempting to dismiss Brown's claim that he had lowered taxes while governor of California from 1975 to 1983.
"CNN, not me, CNN says his assertion about his tax record was, quote, just plain wrong," said Clinton at the time. "He doesn't tell people the truth," said Clinton in the '92 footage within Whitman's ad.
That language contrasts strongly with the following note Clinton sent Tuesday to the Los Angeles Times:
---