PA-12: A template for Democrats in November election?
Democrat Mark Critz won the special election Tuesday in PA-12 – a Pennsylvania congressional district where President Obama has a 35 percent approval rating. In some ways, his campaign could be a model for Democrats in the November election.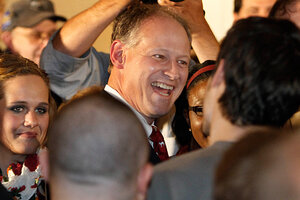 Keith Srakocic/AP
Democrats are touting their victory in Pennsylvania's 12th Congressional District (PA-12) – which kept the seat in Democratic hands, despite the anti-Washington mood among voters – as a template for how to win other tough House races in the November election.
The model, as followed by now Rep.-elect Mark Critz (D) of Pennsylvania, goes like this:
Keep it local, not national. Don't even talk about President Obama and House Speaker Nancy Pelosi.
Define your opponent early and often, as negatively as possible.
Hold positions that match the views of your district – in Mr. Critz's case, it meant being anti-abortion and pro-gun. It also meant opposing the just-passed health-care reform (though Critz adds that he would not repeal it) and the climate change "cap and trade" bill.
In some ways, Critz's situation was unique, so his model isn't fully duplicable. The member he was replacing is John Murtha, a beloved figure in western Pennsylvania, who died in February. Congressman Murtha held the seat for 35 years and was a local legend.
---