Republicans aim for a Scott Brown-style upset in Pennsylvania
Republicans are gunning for the House seat of the late Democratic Rep. John Murtha in Pennsylvania. They hope Tuesday's special election will replicate Scott Brown's 'Massachusetts miracle.'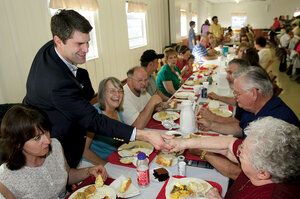 Keith Srakocic/AP
Call it "Scott Brown, the sequel." With a "tea party" rebellion at his back, Republican businessman Tim Burns aims to turn a sprawling district in Pennsylvania's once mighty coal, iron, and steel heartland into the next "Massachusetts miracle" in a May 18 special congressional election.
"Why am I running for Congress? Meet one of the biggest reasons," says Mr. Burns in his first television ad, which features a mug shot of House Speaker Nancy Pelosi. "Pelosi's big-government, liberal agenda is destroying America."
New to electoral politics, Burns is facing Democrat Mark Critz, a former aide to Rep. John Murtha (D) of Pennsylvania, whose death on Feb. 8 prompted a special election to fill his unexpired term.
While Mr. Murtha never attained the national iconic status of Massachusetts Sen. Edward Kennedy (D), he was a giant in his own district. Over his 36 years in the House, Murtha muscled billions in defense and infrastructure spending to this struggling region. The race to replace him has drawn national attention – and campaign funding – as an early referendum on the Obama administration and the Democratic majority in Congress.
---