Want votes? First, candidates in Election 2010 must make a pledge.
Grass-roots groups, mostly on the right, insist that House and Senate candidates in Election 2010 make specific pledges, before giving their thumbs' up. Spending cuts and repeal of the federal health-care law are often on the pledge list.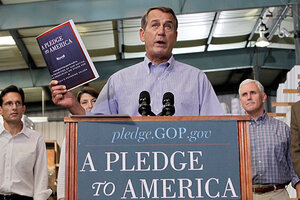 J. Scott Applewhite/AP
Call Election 2010 the year of the pledge.
In 1994, House Republicans – challengers and nearly all incumbents – campaigned on a Contract With America that set out how Republicans would govern, if they took back the House. But in the 2010 midterm election, grass-roots groups, mainly on the right of the political spectrum, are demanding more of candidates: a pledge that, once elected, they will live up to their campaign promises, or be held accountable in 2012.
These pledges include repealing or defunding health-care reform, auditing the Federal Reserve, balancing the US budget, ending "earmarks," permanently extending the Bush tax cuts, and blocking future tax increases.
The demand for pledge-taking is born of distrust: Tea party and other conservative activists look back at the 12 years of GOP House control and see broken promises, rampant government spending, and a slew of lawmakers' "pork-barrel" projects. The pledges are also intended to define a mandate for new conservative lawmakers who may take control in the House or Senate.
---