Rep. Jesse Jackson Jr. beset by difficulties, but Election Day isn't one
Rep. Jesse Jackson Jr. (D) of Illinois has been absent from Congress since June, citing his health. He's also under investigation by a House ethics panel and, reportedly, the FBI. But he looks poised to sail to reelection, polling shows.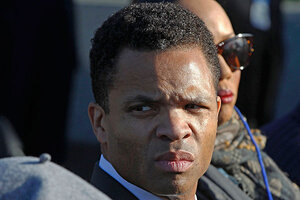 Charles Dharapak/AP/File
When residents of the Second Congressional District in Illinois vote Tuesday, polls show, they are likely to choose a candidate who may continue to be absent from his post due to poor health or because he may soon be embroiled in a federal trial for fraud. Or both.
Both scenarios appear possible for US Rep. Jesse Jackson Jr., the incumbent Democrat who has held his House seat for 17 years and is seeking reelection amid speculation that he may not be in a position to serve.
The US Constitution lets Congress decide whether a representative who can no longer serve should stay or go. No members of Mr. Jackson's party have called for his ouster from the ticket, and so far none has suggested that he vacate his seat if elected. Democrats are eager to keep the House seat in the party, and Jackson's name recognition has been a proven fundraiser, the Chicago Sun-Times has reported.
"We used to take the two state [political] parties seriously as some kind of construct [for enforcing certain conduct], but the fact of the matter is, they're both loose organizations and don't have the ability to discipline people like they way they used to," says political scientist Larry Bennett of DePaul University in Chicago.
Jackson was once a rising star of his party, seen as a young, fresh face who was connected to the civil rights protest era through his father, the Rev. Jesse Jackson.
---