Good news for Chicago Democrats? Robin Kelly is not Jesse Jackson Jr.
In the election to replace Jesse Jackson Jr., Illinois State Rep. Robin Kelly boasts an endorsement by President Obama, backing from New York Mayor Bloomberg, and a political record that is scandal-free.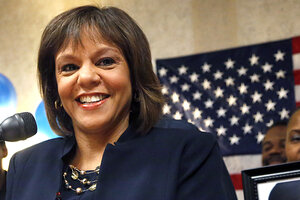 Charles Rex Arbogast/AP
Robin Kelly, the Democrat running for the US House seat previously held by disgraced former Congressman Jesse Jackson Jr., is considered a virtual lock to win the general election Tuesday for the seat, which has been in Democratic hands for decades.
No drama there.
But what is especially encouraging for her party is that Ms. Kelly, an Illinois state representative who has been endorsed by President Obama and indirectly received support from New York Mayor Michael Bloomberg for her stance on gun control, is that her political record is scandal-free, a true breath of fresh air for this district.
Kelly, who handily won the special primary in February in this heavily Democratic area, faces five opponents Tuesday, led by Republican Paul McKinley, a Chicago resident who focused his campaign on a narrative of turning his life around after serving about 16 years in prison for robbery, burglary and aggravated battery. He says he opposes new gun control measures. Also running are three independent candidates and another running on the Green Party ticket.
Mayor Bloomberg's support has made Kelly rather formidable. His organization, Independence USA PAC, invested more than $2 million in political ads during the primary. While Debbie Halverson, Kelly's Democratic primary challenger, criticized the outside spending, it nonetheless sunk Ms. Halverson's campaign with ads that criticized the favorable "A" rating she once earned from the National Rifle Association (NRA).
---