House race: Mark Sanford win crushes Democrats' hope of red-state toehold
Democrats spent $1 million to elect Elizabeth Colbert Busch in true-red South Carolina. But Republican Mark Sanford won handily with a message of fiscal restraint, despite ethical and moral lapses while governor.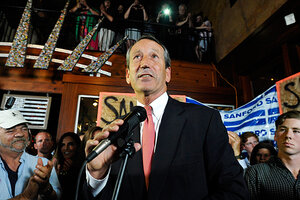 Rainier Ehrhardt/AP
South Carolina Republicans rallied Tuesday to protect a key piece of political turf by electing Mark Sanford, a charming but flawed veteran lawmaker, to Congress for the First Congressional District, a seat he held for three terms during President Bill Clinton's tenure.
Mr. Sanford's convincing win against Elizabeth Colbert Busch, a Charleston, S.C., businesswoman and first-time candidate, ended a zany but impressive comeback for the former governor, who left office in disgrace two years ago after conducting an overseas affair on the state's time and dime, and lying about his whereabouts. (Out of touch for nearly a week, Sanford wasn't hiking the Appalachian Trail, as he had told staff, but meeting a mistress in Argentina.)
Down by nine percentage points in the polls as recently as a week ago, Sanford won by a nine-point margin in the special election to replace Tim Scott, who was appointed late last year by Gov. Nikki Haley (R) to fill the Senate seat left vacant by former Sen. Jim DeMint, who resigned to lead a conservative think tank.
National Democrats tried to exploit a golden opportunity to grasp a piece of turf in the Republican thickets of the South, with Ms. Colbert Busch presenting herself as a political moderate and an independent thinker. But the election ultimately turned less on personal foibles and marital infidelity and more on political ideology and fiscal principles that include constraining Washington spending.
---