Tim Pawlenty takes flak over GOP debate. Was his showing so tragic?
Tim Pawlenty declined to be the attack dog against front-runner Mitt Romney in Monday's GOP presidential debate. Critics assailed him, but there are risks to going negative so early in the race.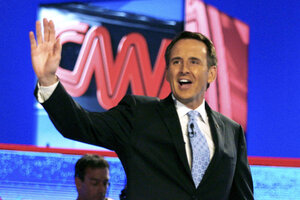 Joel Page/Reuters
It's the day after, and Tim Pawlenty is taking grief for not attacking front-runner Mitt Romney over health care during the New Hampshire presidential debate Monday night.
Mr. Pawlenty, the former two-term governor of Minnesota, had served up a clever slam against "Romneycare" the day before on "Fox News Sunday." Noting that Mr. Romney, the former governor of Massachusetts, had created the model for President Obama's health-care reform, he (or one of his advisers) invented a new term – "Obamneycare" – a sort of two-headed monster that forces Americans (and already, Massachusettsans) to purchase health insurance whether they want to or not.
But on Monday, when debate moderator John King asked Pawlenty "why Obamneycare," he demurred. He didn't look at Romney, and he chose instead to focus on what he did in Minnesota rather than go after the front-runner for the GOP nomination. It was all Mr. King could do to get Pawlenty even to utter the word "Obamneycare" again.
"Pawlenty's Manchester meltdown," the National Journal headline blared. "It was an opportunity missed – more painfully, an opportunity virtually everyone noticed, making the damage all the worse," the news site opined.
---