Gay marriage: Can Obama stay on tightrope until 2012 elections?
President Obama has increased gay rights without publicly endorsing gay marriage. Can his position on gay marriage continue 'evolving' throughout a tight campaign season?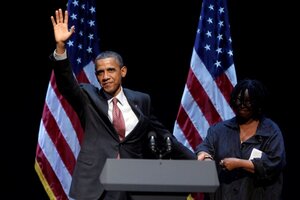 Jason Reed / Reuters
For months, President Obama's view on gay marriage has been "evolving," to quote press secretary Jay Carney. The unspoken presumption is that Mr. Obama really does support full marriage equality for same-sex couples, but just can't say it out loud. If he did, it would needlessly inflame social conservatives and potentially alienate swing voters, the thinking goes.
Can the president ride that position all the way to Election Day? Or at some point in the next 16 months, will he feel compelled to evolve to the next step, overt support for gay marriage?
"There's only so long you can ride this pony," says Ford O'Connell, chairman of the conservative Civic Forum PAC.
For now, Obama seems safe with the position he laid out Thursday night, at a major LGBT fundraiser in New York City for the Democrats and Obama's campaign.
"I believe that gay couples deserve the same legal rights as every other couple in this country," the president said to applause, hinting at support for same-sex marriage, but not saying the words. The president's official position is that he supports civil unions.
---