Michele Bachmann wins Iowa straw poll, edging out Ron Paul
Rep. Michele Bachmann took 29 percent of the votes in the Iowa straw poll on Saturday, topping the field of GOP presidential hopefuls. Rep. Ron Paul came in second and Tim Pawlenty a distant third.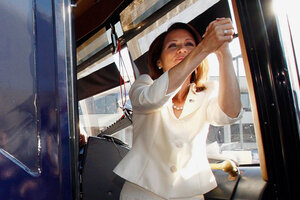 Charlie Neibergall/AP
Minnesota Rep. Michele Bachmann won the Iowa straw poll on Saturday, adding momentum to her populist-conservative campaign for president.
Out of 16,892 votes cast, Congresswoman Bachmann won 4,823 votes, or 29 percent. Coming in a close second was Rep. Ron Paul of Texas with 4,671 votes, or 28 percent. Former Gov. Tim Pawlenty of Minnesota came in third with 2,293 votes, or 14 percent.
Bachmann's campaign has been on rocket fuel since she announced her candidacy on June 13. The fiery legislator quickly shot to first place in polls of Iowa Republicans, whose party is dominated by Christian conservatives who align with the low-tax, small-government message of the tea party. Bachmann heads the Tea Party Caucus in the House.
The entry of Texas Gov. Rick Perry into the GOP race on Saturday likely sets him up to be the alternative to Bachmann in the conservative wing of the party. National front-runner Mitt Romney, the former governor of Massachusetts, opted not to take part in the Iowa straw poll, though his name appeared on the ballot. He won 587 votes, compared with 718 write-in votes for Governor Perry.
---