Sarah Palin won't run in 2012, but don't expect her to fade away
Sarah Palin, citing family considerations, opts out of the 2012 presidential race. Her election-season aim, she said Wednesday, is to help elect other 'true public servants' to office – and she has shown she can.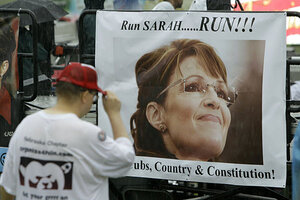 Charlie Neibergall/AP
Ending months of speculation, former Alaska Gov. Sarah Palin announced Wednesday that she's not running for president.
Ms. Palin, the Republican nominee for vice president in 2008, had fanned talk of a possible campaign by traveling the country on a high-profile bus tour and keeping her brand well-publicized via TV and social media. But all the while, she showed few signs of mounting the kind of organizational effort required for a serious campaign.
In a letter to supporters, datelined Wasilla, Alaska, she cited her family in opting out of the 2012 race.
"After much prayer and serious consideration, I have decided that I will not be seeking the 2012 GOP nomination for President of the United States," she wrote in the letter, obtained by ABC News. "As always, my family comes first and obviously Todd and I put great consideration into family life before making this decision. When we serve, we devote ourselves to God, family and country. My decision maintains this order."
Palin said she felt she could be more effective "in a decisive role to help elect other true public servants to office -- from the nation's governors to congressional seats and the presidency."
"We need to continue to actively and aggressively help those who will stop the 'fundamental transformation' of our nation and instead seek the restoration of our greatness, our goodness and our constitutional republic based on the rule of law," she said.
---