Poll: In 2012 swing states, Obama is tied with Mitt Romney, Newt Gingrich
In 12 swing states in the 2012 election, Obama is deadlocked against Republican Mitt Romney, with 45 percent of the vote each, a new Purple Poll shows. Newt Gingrich also shows well.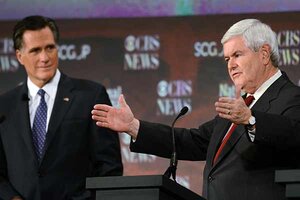 Richard Shiro/AP
When Republicans determine their party's nominee next year and when President Obama hits the campaign trail in earnest, all eyes will turn to those critical swing states that catapulted the Democrat to victory in 2008. Only this time, according to a survey released Monday, the "Yes We Can" candidate has lost his luster from Florida to Ohio, Nevada to New Hampshire.
"Overall, there's no question that the Obama campaign should be very worried looking at these numbers," says Doug Usher, managing director of the bipartisan firm Purple Insights, which examined voter views in the dozen states likely to determine Mr. Obama's reelection prospects.
The aptly named Purple Poll reveals a president with sagging approval numbers – 41 percent across these states – and an overwhelming sense among these voters – 71 percent – that the country is moving in the wrong direction.
The survey, conducted Nov. 13-17, also shows Obama is deadlocked against Republican front-runner Mitt Romney, with 45 percent of the vote each in those states. As former House Speaker Newt Gingrich surges, he, too, shows well against the White House incumbent; Obama leads Mr. Gingrich 46 percent to 44 percent. Gingrich has benefited from his turn in the media spotlight as the latest possible alternative to Mr. Romney, Mr. Usher says, but it's unclear as yet if Gingrich will survive the glare to mount a strong primary challenge.
---