Newt Gingrich: Union Leader endorsement a big boost in New Hampshire
In a front page editorial Sunday, New Hampshire's prominent statewide Union Leader newspaper endorsed Newt Gingrich. It's a big boost for Gingrich and a blow to Mitt Romney, currently leading in polls.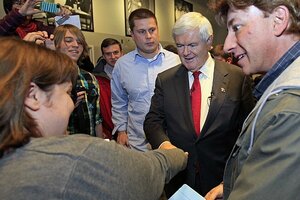 Adam Hunger/Reuters
Newt Gingrich's presidential campaign just got a big boost in New Hampshire – the state holding the first Republican primary election.
The Union Leader, the state's most prominent publication and a leading voice in conservatism, says it's backing Gingrich over Mitt Romney.
Romney, who holds a commanding lead in New Hampshire polling, is still the man to beat there. But the Union Leader's rejection of his candidacy is a blow nonetheless – particularly since Gingrich has vaulted past his GOP rivals to claim neck-and-neck status with Romney in national Republican polls as well as likely-voter surveys in other states.
The newspaper's endorsement – spread across the top of the front page in the Sunday edition and signed by publisher Joseph W. McQuaid – carries a granite-like tone typical of a publication prominent in Republican politics. Four years ago, its endorsement of John McCain helped propel McCain past Romney to a win in New Hampshire and to his party's nomination.
"We are in critical need of the innovative, forward-looking strategy and positive leadership that Gingrich has shown he is capable of providing," the newspaper wrote in its editorial.
"We don't back candidates based on popularity polls or big-shot backers," the paper declared in obvious reference to Romney. "We look for conservatives of courage and conviction who are independent-minded, grounded in their core beliefs about this nation and its people, and best equipped for the job."
---