Following his solid debate performance, can Newt Gingrich be stopped?
In the crucial Iowa debate, Newt Gingrich came across as steady and principled, flexible or unwavering as he saw the need. The one major gaffe was Mitt Romney's $10,000 challenge to Rick Perry.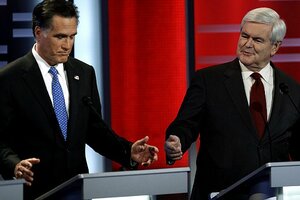 Charlie Neibergall/AP
All eyes were on Newt Gingrich Saturday night in Iowa. And for debate-watchers – and especially Republicans still looking for a candidate they can get enthusiastic about – he did not disappoint.
The former House Speaker – a Washington insider publicly accused by many fellow Republicans and conservative commentators of being an unsteady rhetorical bomb-thrower with an out-sized ego – came across as steady and principled, flexible or unwavering as he saw the need.
And while some 70 percent of Iowa caucus-goers still say they could change their mind about whom they'll vote for in next month's first-in-the-nation nominating contest, Gingrich – leading in the polls – is the man to beat.
"He entered the debate with momentum and did not lose any momentum," Iowa Republican strategist Richard Schwarm told the Des Moines Register. "Despite being the main target, he was not damaged."
For every shot his rivals took, Gingrich seemed to have a ready and reasonable answer.
His one-time support for requiring most Americans to have health insurance?
That was in line with what many conservatives believed at the time as they tried to head off the national health care plans of then-first lady Hillary Clinton.
The notion of colonizing the moon and mining it for minerals?
---
Follow Stories Like This
Get the Monitor stories you care about delivered to your inbox.