Newt Gingrich: Talking 'crazy' or 'crazy like a fox'?
Newt Gingrich is 'too crazy' or 'too impulsive' to be president, according to the Romney campaign – and the GOP establishment. Will that tactic work?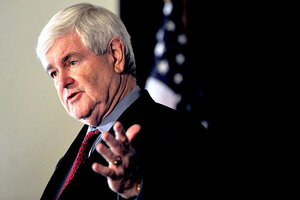 (AP Photo/Rainier Ehrhardt)
As the Mitt Romney campaign turns their guns full force on Newt Gingrich, we're noticing a not-so-subtle subtext in their arguments against him. In essence, they seem to be hinting: this guy is a little crazy.
In a media conference call yesterday, Romney supporter and former New Hampshire Gov. John Sununu referred to Gingrich's "irrational behavior," while former Missouri Sen. Jim Talent called him "not a reliable or trustworthy leader" and accused him of "saying outrageous things that come from nowhere."
And New Jersey Gov. Chris Christie, stumping for Romney in Iowa, had this to say (he did not mention Gingrich by name, but the inference is clear):
"When you look at candidates, say: 'Is this the kind of person who's always going to make me proud in the Oval Office and [I'll] never have to worry will embarrass America? That I'll never have to worry will do something that will just make me ashamed?'"
Moreover, it's not just Romney surrogates making this point. Here's former Gingrich aide Rich Galen, in National Journal piece, describing Gingrich's "erratic" management style:
"He had a new idea every 13 seconds. He just made everyone crazy. There was too much turmoil."
And Wall Street Journal columnist Peggy Noonan calls Gingrich a "human hand grenade." In a searing column today, Noonan writes about how many establishment Republicans are absolutely terrified at the prospect of Gingrich becoming the party nominee:
---