Newt Gingrich: Challenges ahead, but 'he's still dangerous'
Newt Gingrich is taking flak from his GOP rivals and some conservative commentators on things like Freddie Mac and his ideas about the federal judiciary. But as his fellow debaters have learned, he can be a well-armed and highly-confident opponent.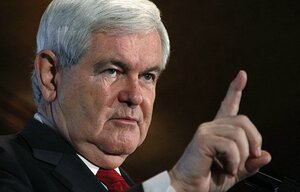 Jeff Haynes/Reuters
Professor Gingrich was lecturing again Saturday – this time on the history of the US judiciary, referencing Thomas Jefferson, Andrew Jackson, Abraham Lincoln, and Franklin Roosevelt.
It was a conference call from Iowa on "how to bring the federal courts back within the constraints of the US Constitution." Fascinating stuff, if a discussion of habeas corpus, Marbury v. Madison, and 14 German saboteurs ordered executed by FDR are what turns you on.
Obviously Newt Gingrich thinks the federal judiciary is an issue worth campaigning on. Railing on "activist judges" is part of any conservative's standard operating procedure. And in Gingrich's case, it's a way of taking the political discussion somewhere other than Fannie Mae and Freddie Mac.
His having been paid $1.6 million by one of the now-disgraced mortgage industry giants – who cares whether he was actually "lobbying" or not? – continues to be something not just Michele Bachmann is interested in. Civil fraud charges by the Securities and Exchange Commission against Fannie's and Freddie's former chief executives, announced just hours after Bachmann's Thursday night debate attack, certainly didn't help Gingrich any.
---