Mitt Romney's 'electability' against Obama key to Iowa caucuses
Mitt Romney is mostly ignoring his GOP rivals, concentrating instead on challenging Barack Obama. It's part of his general election strategy, designed to show Republicans in Iowa and elsewhere that he'd be most 'electable' next November.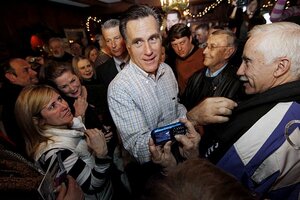 Winslow Townson/AP
As the New Year's weekend revelry slides toward the more serious Iowa caucuses next Tuesday, Mitt Romney's steady-as-she-goes campaign increasingly centers on the bottom line in presidential nominating politics for challengers: electability.
He's leaving it to independent PACs to rhetorically bludgeon his GOP rivals, campaigning with such prominent and respected supporters as New Jersey Gov. Chris Christie. And though there are months and many primary elections to go, Romney already is running against Barack Obama.
That makes sense, given what could be the most important element in this past week's CNN poll in Iowa.
Ron Paul leads Romney on most issues. But asked who had the best chance of beating Obama, Iowa Republicans made it clear: At 41 percent, Romney nearly triples Paul's 14 percent. Asked who's more "presidential," Romney leads Paul by 6 points (25-19).
Other polls indicate Romney's strength versus Obama as well.
---