Is Obama weak on Iran? GOP sees hot issue in crisis over nuclear program.
The growing international crisis over Iran's nuclear program and Americans' preference that US military action be avoided if possible presents an extra challenge to Obama's reelection efforts.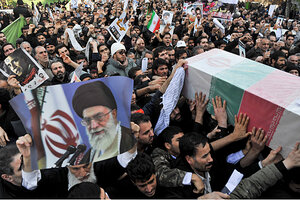 Mehdi Ghasemi/Iranian Students News Agency/AP
Republicans who have been stumped by the high marks Barack Obama receives from the voting public on defense and national security issues believe they may have found the president's weak spot: Iran.
At the same time, rising international tensions with Tehran over its nuclear program and the place it is likely to occupy in the year's diplomatic agenda have some administration officials confiding that "this will be the year of Iran."
Taken together, those two factors are likely to make Iran a standout foreign-policy issue in a presidential campaign otherwise dominated by jobs and the economy.
"The American people would really prefer that there not be any [military] action against Iran," says Stanley Greenberg, a prominent Democratic pollster and political strategist. But at the same time, he notes, "close to a majority favors military action against Iran" if that's what it takes to stop Iran from building a nuclear weapon.
Those ambiguous waters are what President Obama will be navigating as he confronts the growing Iran crisis even as he campaigns for reelection.
That ambiguity was on display Wednesday, as the White House denied an Iranian lawmaker's claim that Mr. Obama recently proposed direct US-Iran talks to the Islamic Republic's supreme leader, Ali Khamenei.
The Iranian official said the proposal for direct talks came in a letter in which Obama also warned that any move to close the Strait of Hormuz, through which passes up to one-fifth of the world's oil, is a "red line" for the United States.
---