What would it take for Gingrich, Santorum, or Paul to beat Romney?
Mitt Romney won big in Nevada's caucuses Saturday, bolstering what supporters say is his standing as 'most electable.' But it's months before the GOP nominating convention, and Newt Gingrich, Ron Paul, and Rick Santorum aren't giving up the fight.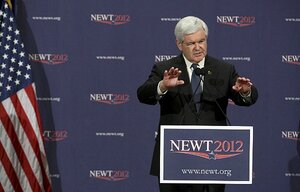 Steve Marcus/Reuters
Clichés abound at this early point in any presidential race. "Never say never." "It ain't over 'til it's over."
And in the cold light of a Nevada desert morning, those seem apt even though Mitt Romney won that state's nominating caucuses by a wide margin – his second big victory in a row following Florida just four days earlier – leaving his main rival Newt Gingrich to figure out a plausible comeback path.
Come convention time next August in Tampa, Fla., it'll take 1,144 delegates to win the nomination. So far, Romney has 97 – just 8.5 percent of total. Still, other numbers gathered at the Huffington Post's "Election Dashboard" web site, indicate strong standing and momentum for the former Massachusetts governor.
He's won 94 endorsements from Republican governors, senators, and members of congress as well as "automatic delegates" – national committee members and state party chairmen. Gingrich has just 11. (Rick Santorum and Ron Paul have 3 each.)
---