CPAC: After a tough week, Romney wins conservative straw poll
Mitt Romney won the CPAC straw poll of conservative activists Saturday. It doesn't bring him any convention delegates, but it does show good standing among the Republican Party base.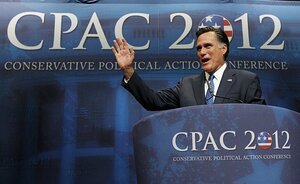 Jim Bourg/Reuters
After his shellacking in three presidential nominating contests this week, Mitt Romney Saturday won something that put a little more spring in his step – the CPAC straw poll.
Among 3,408 participants in the Conservative Political Action Conference straw poll, 38 percent voted for Romney, 31 percent for Rick Santorum, 15 percent for Ron Paul, and 12 percent for Newt Gingrich.
In the Washington Times/CPAC Presidential Straw Poll of self-identified conservatives around the country, the results were much closer: 27 percent for Romney, 25 percent for Santorum, 20 percent for Gingrich, and 8 percent for Paul.
CPAC represents the more-conservative base of the Republican Party. Significantly, 44 percent of straw poll voters at the CPAC gathering Saturday were students. That demographic might have benefited Rep. Paul, who won the poll the last two years and who has a strong following of young enthusiasts. But he bypassed the conference to campaign in Maine, where the nonbinding caucus results were to be announced this weekend.
Romney won with the highest percentage since 2000, when George W. Bush got 42 percent of the vote. Also to his apparent benefit, Romney won at a time when the activists voting said that the candidates' position on conservative issues – not the "electability" favored by mainstream Republicans – held the most importance for them.
---