Primary results: Will Romney's Michigan, Arizona wins restore aura of inevitability?
The primary results for Michigan and Arizona are in and Mitt Romney won both on Tuesday. The Michigan primary victory, in particular, will help Romney stave off the recent charge by Rick Santorum in the polls.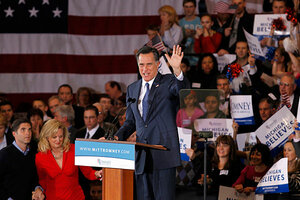 Mark Blinch/REUTERS
Tuesday was a big night for Mitt Romney.
The former Massachusetts governor won comfortably in the Arizona primary and by a narrower margin in Michigan Tuesday night.
At press time, no numbers were final, but in Arizona, Mr. Romney was projected to win with about 43 percent of the vote compared with 28 percent for Rick Santorum. The two other contenders, Newt Gingrich and Ron Paul, trailed well behind.
In Michigan, where the contest has been especially heated and polls have swung wildly between Romney and Mr. Santorum in recent weeks, it was a closer battle, with Romney projected to win with about 41 percent of the vote, compared with 38 percent for Santorum. Mr. Paul and Mr. Gingrich lagged behind with about 12 percent and 7 percent of the vote, respectively.
While Arizona's Romney victory was expected, Michigan – Romney's home state – was considered a less certain and particularly crucial win for Romney. Winning both states Tuesday helps give him back the aura of inevitability he's tried to create for himself, which was badly shaken after his losses to Santorum three weeks ago.
"We didn't win by a lot, but we won by enough, and that's all that counts," Romney told a room of cheering supporters in Novi, Mich., Tuesday night. "A week ago, the pundits and pollsters were ready to count us out," he said. "I was confident that we could come together today and take a giant step toward a brighter future."
---